Malik Zorrok's Between the Numbers: The Regular Season Returns, Young Quarterbacks Impress and Weekly Awards are Given Out
A look back at week 1
Regular season football is back, and there were mixed reviews about the quality of play. Young quarterbacks impress, Adrian Peterson already not happy and awards are given out!
NFL Referees Still In Preseason Form
Looks like making NFL referees full-time workers has not paid off yet.
Some of the games this weekend were not poorly officiated, they were just downright atrocious. The main example will be the Seahawks-Packers game, in which the Packers won 17-9. This game could've been very different though.
Fast forward to the 44 second mark, where Seahawks defensive end, Cliff Avril, gives Aaron Rodgers a gentle push on his right shoulder, and the pick-six is taken off the board. Seattle went three-and-out on the ensuing possession.
Believe it or not, that was the second worst call on that play alone.
Watching this game live, I felt for Seattle fans. Never in a million years did I think that a player could yank on an opposing player's facemask, and not get at least penalized.
Well, instead of throwing a flag on Packers wideout Davante Adams, or flags on both Adams and Jeremy Lane, they decided to throw out Lane for 'throwing a punch'. I do not see a punch in the video attached.
I do see Lane, kind of, shoving his forearm into Adam's neck area, but at the very least, you have to throw a flag for Adams' initial facemask yank. Instead, it was completely botched. But wait, there's still more.
[mytwitter url="https://twitter.com/WillBrinson/status/907007858969116673″]
Initially, I thought the ball was uncatchable on this play, although after a couple replays, it was clearly a catchable ball. And the referees agree, as they did not give the uncatchable ball signal.
Therefore, they deemed the contact not worthy of a pass interference call that would have put the ball on the Packers one-yard line, with a fresh set of downs. Instead, Seattle had to kick a field goal.
This may be the worst of the bunch. Even the Eagles were stunned to see the call go their way.
This is clearly a batted down ball. Yes, I see Brandon Graham's left hand come down on Cousin's throwing hand, but the ball was clearly going forward, and was then batted down by Graham's right hand.
This is as close as I have seen a referee dictate the outcome of the game since Fail Mary. Do I believe Cousins would have driven down the field to score the game-winning touchdown? There was a chance.
Cousins and the Redskins offense struggled early, but they had a couple drives later in the game where they effectively moved the ball. And this call ended the game.
And this one didn't cost any team anything, but it was funny as heck.
Here's to the referees, let's hope for a better officiated product next week.
Week One Was Actually Pretty Good
Out of the 15 games played, I counted eight that were decent games, at least through the majority of the game. Here they are: Chiefs @ Patriots, Falcons @ Bears, Steelers @ Browns, Cardinals @ Lions, Raiders @ Titans, Eagles @ Redskins, Seahawks @ Packers and Chargers @ Broncos.
In some of those games, one of those teams started to pull away late in the game, making it less competitive, but overall a good product.
Next week is going to be a grind, as I only count five games that interest most football fans, but week one was a good start for a league that lacked a lot of good games last year.
Adrian Peterson Already Not Happy
I was stunned that the Saints signed Adrian Peterson this offseason. He just does not fit in their offensive scheme, at all.
The Saints are known for their high-octane passing offense, led by future Hall of Fame quarterback, Drew Brees, and Peterson has never been known for his ability to catch passes out of the backfield.
https://twitter.com/_MarcusD2_/status/907408230762078209?ref_src=twsrc%5Etfw&ref_url=http%3A%2F%2Fftw.usatoday.com%2F2017%2F09%2Fadrian-peterson-argument-sidelines-video-sean-payton-saints-vikings-nfl%2F
Then, this happened. Throughout the game, Peterson's body language was just not good overall. He was visibly frustrated especially after finally coming into the game on a 3rd & goal from the two-yard line, only to have it be play action and incomplete. The Saints settled for a field goal, and Peterson walked over to the bench muttering some words I can not type on here.
It's too early to judge how good (or bad) of a signing this will be. For all I know, the Saints can be up four in a four-minute drill trying to kill clock, and Peterson will break a bunch of tackles to bleed the clock out and seal the win.
Or the Saints defense can continue to get scored on, and the Saints offense will have to throw the ball to catch up, leaving Peterson on the sidelines, and unsatisfied.
Young Quarterbacks Impress
Let's just go down the list. Carson Wentz made one of the better plays I have seen from a quarterback in a while.
Man this was something. Wentz is your classic Brett Favre-esque quarterback. He's going to make plays to win you games, but he will make plays to lose you games. Brett Favre had a knack for making those losing plays at the absolute wrong time, and not enough of the winning plays at the right time. I'm excited to see which route Wentz's career will take.
DeShone Kizer was solid in his first taste of NFL regular season action, throwing for 222 yards, two total TDs (one passing, one rushing) although he did throw one INT. The Browns offensive line is supposed to be one of the best in the league, at least on paper, but they gave up seven sacks and running back Isaiah Crowell had nowhere to run.
Derek Carr and Marcus Mariota went at it in Tennessee and both played well. Carr threw for two TDs and was in control for most, if not all, of the game. Mariota showed flashes but still needs to develop as a between the hashes passer.
Jared Goff threw for over 300 yards and a TD in an embarrassing takedown of the Indianapolis Colts. Dak Prescott's numbers do not speak towards his performance Sunday night against the New York Giants. He was in control from the second quarter on, throwing some absolute bullets into tight coverage. He really impressed me against the vaunted Giants defense.
Even Trevor Siemian had some fantastic plays Monday night against the Los Angeles Chargers.
Many football fans claim the league has a lack of talent at quarterback, and I would strongly disagree with those people.
Quote Of The Week
So the Indianapolis Colts were waxed by Jared Goff and company. After the game, Colts head coach Chuck Pagano had this to say about his team's performance, "We got our ass kicked, credit to the 49ers and coach McVay."
Just one problem. They were playing against the Los Angeles Rams, not the San Francisco 49ers. At least he got the coach right!
Weekly Awards
Biggest what-the-f moment: A lot of options for opening week, but I'll head to Nashville, where Tennessee Titans head coach Mike Mularkey had an interesting way to get the season started. The Titans ran an onside kick on the opening kickoff, and the Raiders recovered the kick and started with excellent field position, and scored a touchdown to go up 7-0 in a little over two minutes. Better luck next time Mularkey!
Best GIF: Phillip Rivers truly is the GIF that keeps on GIFing.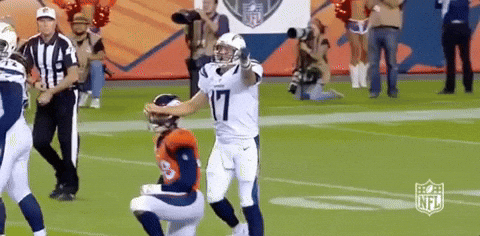 Greatest fantasy disappointment: Both David Johnson and Le'veon Bell gave their fantasy owners very little. Although David Johnson fantasy owners can not like the most recent news.
Ugliest unit to watch: Seattle Seahawks fans, someone needs to tell general manager John Schneider that Russell Wilson needs at the very minimum, one second, to throw the ball. That offensive line was bad, bad, bad.
Download The Grueling Truth app in the iTunes store!
Follow Malik Zorrok on Twitter @MalikStark_ and The Grueling Truth on Twitter @GruelingTruth and Like us on Facebook.